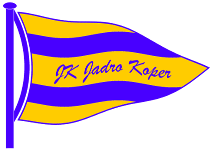 Europa Cup Slovenia
Fri 15th March 2019 - Sun 17th March 2019
Slovenia, Koper
Regatta Informations
This regatta will be organized by the JK Jadro Koper.
Sailors wishing to enter must first complete an application form.
Entry Fee
90.00€ (EUR)
Late Entry Fee
110.00€ (EUR)
Entry Closing Date
Tue 5th of March
Entry Address
http://eurilca.eu/event/application_form.php?id=158
Race office opening
Thu 14th of March , 16:00
Race office closing
Sun 17th of March , 19:00
First Race
Fri 15th of March , 11:00
Last Race
Sun 17th of March , 16:00
N° of Races
8
Social events

3 day dinners (pasta) and drinks, T-shirt

Insurance Requirements

Each participating boat shall be insured with valid third-party liability insurance with a minimum cover of €1,500,000 (1.5 million Euros) per event or equivalent there of in any other currency.
Club Details
JK Jadro Koper, Kopališko nabrežje 3, Koper Slovenia

Email: info@jadrokoper.si
Tel: +386566300990
Fax:
About Koper, Slovenia
Entry Fee payments
If you would like to pay entry fee in advance use following instructions
Bank name: BANKA INTESA SANPAOLO d.d.
Address: Pristaniška ulica 14, 6502 KOPER, SLOVENIA
BIC: BAKOSI2X
IBAN: SI56 1010 0003 4957 340
Important! Please include following data into payment's reference: 00-670 [SAILOR'S NAME AND SURNAME] [SAILOR'SWorld Sailing ID]
We would be grateful if you can also send us copy of payment confirmation to:
info@jadrokoper.si
Boat Landing Area:
Boat landing area for Europa Cup will be situated in Marina Koper, home of the host club - JK Jadro Koper, just
a few minutes away from the center of Koper. The boat s will be parked in two area one will be in Marina Koper
and the other in the local beach beside marina Koper. Those two areas are already equipped with slipways.
Local Facilities:
The race office and facilities for sailors will be set up inside the Marina Koper. There will be pressroom and free
Wi-Fi for sailors, coaches and press. In the marina will be berths for the rubber boats. Centre of Koper with
shops, bars and restaurants is few minutes away.
Average Wind & Weather Conditions:
March is a month of temperatures from 10 - 20 depends on weather. The two prevailing winds are the NW see
breeze "maestral" with average speed around 6 to 15 knots and its very regular wind. The other one is from
NE "burja" which is blowing from the shore with speed from 15 to 25 knots an its shifty with a colder air. In the
case of bad weather can be also a shifty light wind from SE.
Local Driving Directions useful reaching the Boat Park:
Map of Koper:
Accommodation
Accommodation in Hotel Žusterna:
Half board:
41€ per night/person
Half board in single room:
59€ per night/person
Tax: Minor, under 18 years: 1€ per person/day
Adult, over 18 years: 2€ per person/day
The price includes full entrance to the swimming pol area, fitness gym and a parking lot.
Charter Boats Information
Please contact Mihelic Sailing from Croatia that will be supporting charter boats and ribs. They can be reached through their facebook page: