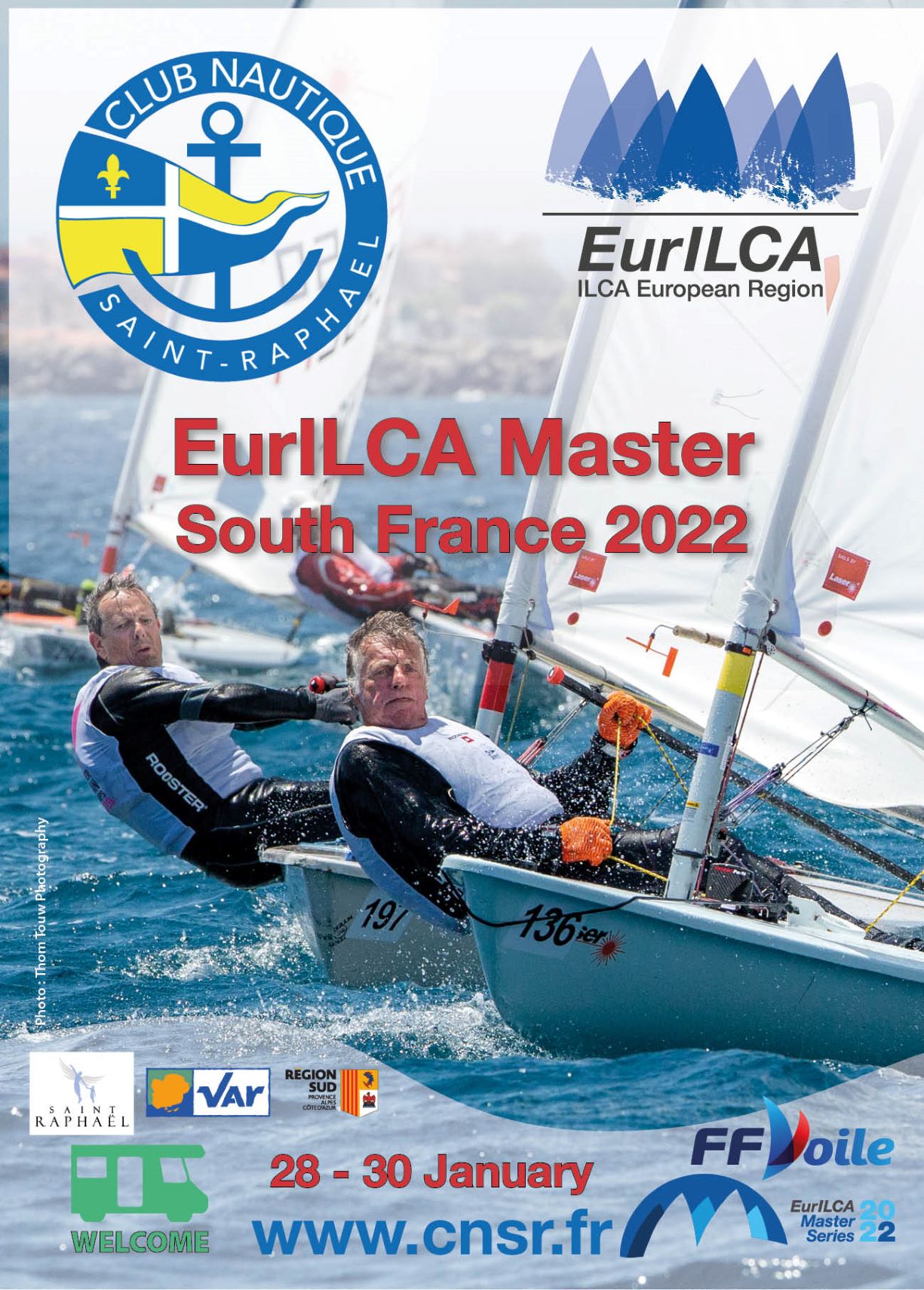 EurILCA Master South France
Fri 28th January 2022 - Sun 30th January 2022
France, Saint Raphael
Regatta Informations
This regatta will be organized by the Club Nautique Saint Raphaël (CNSR).
Entry Fee
110.00€ (EUR)
Late Entry Fee
125.00€ (EUR)
Entry Closing Date
Sat 22nd of January
Entry Address

https://cnsr.clubiwan.fr/

Race office opening
Thu 27th of January , 14:00
Race office closing
Sun 30th of January , 18:00
First Race
Fri 28th of January , 13:30
Last Race
Sun 30th of January , 14:00
N° of Races
9
Social events

A dinner is planned for all sailors in one evening.

It will all depends of the coid-19 situation.

If not daily pasta will served after racing.

Insurance Requirements

All competitors shall be insured with valid third party liability insurance with a minimum cover of € 2,000,000 ( 2 million Euros) per event or equivalent there of in any other currency.
Club Details
Club Nautique Saint Raphaël (CNSR), 26 place du club nautique, St Raphaël France

Email: club@cnsr.fr / regate@cnsr.f
Tel: (33) 0 4 94 95 11 66
About Saint Raphael, France
A training course will take place before the euromaster of St Raphaël
Monday 24th, Tuesday 25th and Wednesday 26th January
Rest on Thursday 27th
Regatta on 28/29/30
2 coaches: Antony Munos (substitute at the London and Rio Olympics for
J B Bernaz)
Christophe Falon coach.
Price: 250 € lunch included.
Thank you for spreading the word.


Saint Raphaël is located in the heart of the French Riviera between Hyères (
often very windy) and Antibes ( often .... windless )
St Raphael is windy as it should be ...... !!!! Winter and summer.
We are waiting for you


contact :
Jean Philippe Galle
+33 (0)6 01 71 76 61
Local Tourist Information
Office de Tourisme de Saint-Raphaël
99 Quai Albert 1er
83700 Saint-Raphaël
04 94 19 52 52
information@saint-raphael.com
https://www.saint-raphael.com/fr/services/office-de-tourisme-ou-syndicat-dinitiative/saint-raphael/office-de-tourisme-de-saint-raphael-4861048/
Accommodation
Best Western Plus Hotel La Marina, Saint-Raphaël - https://www.bestwestern.fr/fr/hotel-Saint-raphael-Best-Western-La-Marina-93520
hôtel brise de mer - https://www.hotel-brisedemer.com/
Maeva :
https://www.pierreetvacances.com/fr-fr/fp_S1Y_location-residence-la-corniche-d-or
https://www.pierreetvacances.com/fr-fr/fp_06L_location-residence-promenade-des-bains
Campers welcome on the backside of the club.
Transport
Coming by car
Autoroute du Soleil A8, sortie 38 Fréjus/Saint-Raphaël coming from Paris, Lyon, Toulouse, Nice, Italie...
https://g.page/cnsr83?share
Charter Boats Information