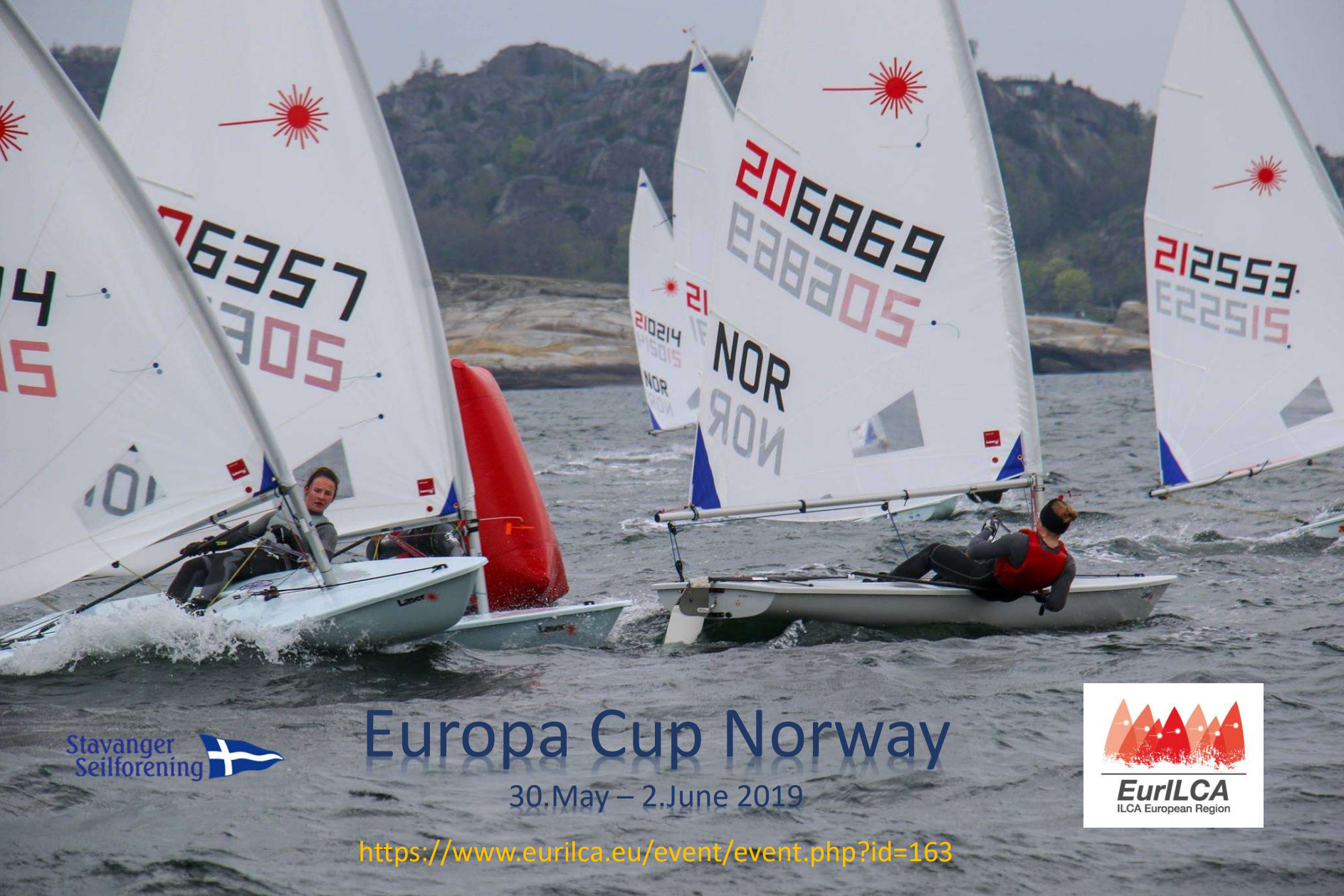 Europa Cup Norway
Fri 31st May 2019 - Sun 2nd June 2019
Norway, Stavanger
Regatta Informations
This regatta will be organized by the Stavanger Seilforening.
Sailors wishing to enter must first complete an application form.
Entry Fee
90.00€ (EUR)
Late Entry Fee
110.00€ (EUR)
Entry Closing Date
Tue 28th of May
Entry Address

Sailors must first make an application on the Eurilca website and application will be final if they pay to the organizing club. All sailors must also enter and pay at the link on manage to sail.

Race office opening
Thu 30th of May , 12:00
Race office closing
Sun 2nd of June , 19:00
First Race
Fri 31st of May , 11:00
Last Race
Sun 2nd of June , 15:00
N° of Races
8
Social events

T-shirt

Insurance Requirements

Each participating boat shall be insured with valid third-party liability insurance with a minimum cover of €1,500,000 (1.5 million Euros) per event or equivalent there of in any other currency.
Club Details
Stavanger Seilforening, Karen A. Sømmes vei 3-5, Hundvåg Norway

Email: dagligleder@stavangerseilforening.no
Tel: +47 51 89 01 00
Fax:
About Stavanger, Norway
Information about the regatta https://manage2sail.com/en-Us/event/c15a847e-b110-483b-84f5-7041c28c2ab5#!/
Practical information at event https://www.facebook.com/events/2091467751092365/
Laser Charter Boats
Number of charter boats available: 5 Charter fee: 300 Euro for the race. Additional 100 Euro pr. Day for practice race.
Accommodation
Scandic Stavanger City offers a 20% discount on accomodation including breakfast during EC/NC 2019 from 31st of May - the 2nd of June 2019.
Scandic Stavanger City Hotel - link to the offer is in the document section of the mini site
The hotel is located just 2 km from the Stavanger Seilforening. Click here to make your reseration. The stay must be paid directly. The reservation cannot be changed or cancelled.
Camping :
Cabin 2 beds: 450 NOK, Cabin 4 beds: 600 NOK per day
Campervan: 250 NOK with el. hook-up – per day
Caravan: 250 NOK with el. hook-up – per day
Car and tent: 200 NOK (up to 3 people) – per day
Hikers tent: 80 NOK per person in tent – per day